Bread Box News

---
---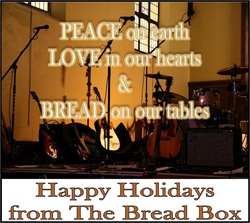 On sale now!!
At The Willimantic Food Coop, Song-A-Day Music, and Willimantic Records. Also available at all Bread Box concerts and Artist Showcases
The Bread Box's First CD "PEACE on earth, LOVE in our hearts & BREAD on our tables"
Holiday Music by many of our performers including: Seat of Our Pants,
Lara Herscovitch, Kristen Graves, Atwater-Donnelly, Curtis Brand, We Got Rhythm, and MORE!
Only $10 and ALL proceeds go directly to
The Covenant Soup Kitchen & Emergency Food Pantry.
---
---
Tickets for all shows are on sale at the Willimantic Food Coop, 91 Valley Street in Willimantic. Or, call 860-429-4220 for reservations.
Visit downtown Willimantic before or after a show. There are MANY good places to dine.
Visit: www.willimanticdowntown.org
---