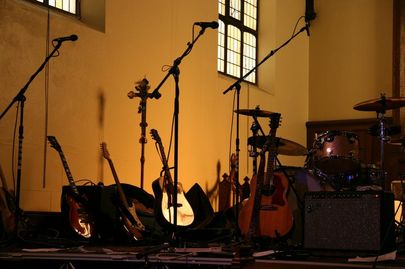 The Bread Box Mission

_The Bread Box
is a group of individuals committed to fighting hunger in our local community by providing a folk music venue that is solely dedicated to collecting food and revenue for
The Covenant Soup Kitchen and Emergency Food Pantry.
We have transformed the sanctuary of St. Paul's Episcopal Church (located at 220 Valley Street, Willimantic CT) into a hundred seat theater with beautiful stained glass and a superb sound system.
All proceeds
always go to the charity as this is a completely volunteer operation.
http://www.covenantsoupkitchen.org/
The Bread Box has been an amazing endeavor. We are now our sixth year and have raised over $30,000 for the soup kitchen by bringing local and national musical acts to Willimantic. There has been an eclectic mix of musical styles from folk and blues to sea shanties and gypsy swing. We have met wonderful people, from the musicians who play to the wonderful crowds that come out to enjoy the music. We have also had the great fortune to by supported by monetary grants from the Lester & Phyllis Foster Foundation, and the family of Jim Romanow that have allowed us to make improvements to the stage, and the sound and lighting.


---
Monthly Artist Showcase is held of the third Wednesday of every month (September to May) from 7:00 to 9:00 pm.
Contact Bruce John @ 860-429-4220 for details.
The Bread Box Folk Theater presents its monthly Artist Showcase at
St Paul's Church , 220 Valley Street Willimantic.
Suggested Donation is $5 and all proceeds go directly to
The Covenant Soup _Kitchen & Emergency Food Pantry
Join us on May 18, 2016 7:00 to 9:00 p.m.
Appearing: Collins & Bradley, Twist of Fate, We Got Rhythm, Jim Taylor,
Bishop Clark, and Ashlee Paradise

We will also be selling a donated collection of CD's, from all different genres, for $1 a piece. All proceeds go to the Covenant Soup Kitchen.
---
Jonathan Edwards is SOLD OUT!!!
The Bread Box Folk Theater, 220 Valley Street ,Willimantic is pleased to welcome Shaboo legend Jonathan Edwards of Sunshine Go Away Today and lay around the Shanty fame, Saturday, May 23rd at 7:30 PM. "Warm as summer sunshine, real as the truth, intimate as a long overdue visit between old friends … such is a Jonathan Edwards concert. Four decades into a stellar career of uncompromising musical integrity, the man simply delivers, night after night – songs of passion, songs of insight, songs of humor, all rendered in that pure and powerful tenor which, like fine wine, has only grown sweeter with age."
---
---
CHECK OUT OUR MEDIA GALLERY! There are a few videos posted and some great pictures taken by Peter Polomski
(of Lily Pad fame).