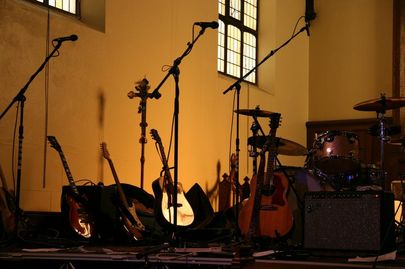 The Bread Box Mission

_The Bread Box
is a group of individuals committed to fighting hunger in our local community by providing a folk music venue that is solely dedicated to collecting food and revenue for
The Covenant Soup Kitchen and Emergency Food Pantry.
We have transformed the sanctuary of St. Paul's Episcopal Church (located at 220 Valley Street, Willimantic CT) into a hundred seat theater with beautiful stained glass and a superb sound system.
All proceeds
always go to the charity as this is a completely volunteer operation.
http://www.covenantsoupkitchen.org/
The Bread Box has been an amazing endeavor. We are now our sixth year and have raised over $28,000 for the soup kitchen by bringing local and national musical acts to Willimantic. There has been an eclectic mix of musical styles from folk and blues to sea shanties and gypsy swing. We have met wonderful people, from the musicians who play to the wonderful crowds that come out to enjoy the music. We have also had the great fortune to by supported by monetary grants from the Lester & Phyllis Foster Foundation, and the family of Jim Romanow that have allowed us to make improvements to the stage, and the sound and lighting.


Next Show November 8th!!
The Bread Box Folk Theater is pleased to host
Rani Arbo & Daisy Mayhem
on
Saturday,
November 8, at 7:30 pm
. They have toured the entire United States, and The Boston Globe calls them" One of America's most inventive string bands" Don't miss this rare opportunity.
Musically, Rani Arbo & Daisy Mayhem reuse and recycle (but try hard not to reduce) 150 years of American music. They hang a Georgia Sea Islands song on a New Orleans groove. They write lyrics for an Irish fiddle tune and underpin it with an Afro-Cuban cajon. Leonard Cohen gets clawhammer banjo; Springsteen gets bluegrass harmonies. Their originals range from blues, to bluegrass, to Unitarian funk gospel, to crooner swing, to spooky folk-pop. With influences from Doc Watson to Django Reinhardt, from Fiddlin' John Carson to the funky Meters, Rani Arbo & daisy mayhem celebrates America's past and takes it into the present.
Tickets are $25 and are on sale at the Willimantic Food Coop, 91 Valley St. All proceeds directly benefit the Covenant Soup Kitchen & Emergency Food Pantry. For information go call
860-429-4220
.
_
---
12th Annual

FOOD FOR THE BODY & SOUL
A Bluegrass Gospel Concert

To Benefit
The Covenant Soup Kitchen
& Emergency Food Pantry

Sunday November 16th - 1:00pm to 3:00pm
First Congregational Church of Coventry
1125 Main Street, Coventry

Admission: A bag of non-perishable food or personal care items

Featuring:

Tim St. Jean & Vicky Baker

Still Pickin'

The Baileys

Lonesome Valley

Truck generously donated by Gates GMC Nissans
For information call Bruce John 860-429-4220


Monthly Artist Showcase is held of the third Wednesday of every month (September to May) from 7:00 to 9:00 pm.
Contact Bruce John @ 860-429-4220 for details.
The Bread Box Folk Theater presents its monthly Artist Showcase Wednesday, November 19th, 7-9 at
St Paul's Church , 220 Valley Street Willimantic.
Suggested Donation is $5 and all proceeds go directly to
The Covenant Soup _Kitchen & Emergency Food Pantry.


CHECK OUT OUR MEDIA GALLERY! There are a few videos posted and some great pictures taken by Peter Polomski
(of Lily Pad fame).


Be sure to check out the NEWS and EVENT SCHEDULE pages!
THE FALL 2014 SCHEDULE IS POSTED ON THE EVENTS PAGE